21st February 2020 2000
Tropical disturbance 09F was named as TC Vicky, at 11:30am this morning. Two other weak lows also exist in the area, including TD07F, which is expected to weaken over the next 24 hours. As all three are in close proximity, they are sharing the available energy between them, which means there is less likelihood of an additional TC being generated. Whether the second weak low becomes a TC is uncertain. If it does, we will blog about this separately.
Currently TC Vicky is a Cat 1 storm. You can follow the transition from Tropical disturbance to Tropical cyclone, as the storm moves over Samoa, by viewing the video below. This shows the time period between 20th February 2020 at 3pm to 21st February 2020 at 8pm.(Source: Zoom Earth)
The Fiji Meteorological service has published the following Tropical Disturbance notes.
TROPICAL DISTURBANCE ADVISORY NUMBER A6 ISSUED FROM RSMC NADI Feb 210141 UTC. TROPICAL CYCLONE VICKY CATEGORY 1 CENTRE 995HPA WAS LOCATED NEAR 14.6S 171.0W AT 210000 UTC. POSITION POOR BASED ON HR HIMAWARI-8 IR/VIS IMAGERY AND PERIPHERAL SURFACE REPORTS. CYCLONE MOVING SOUTHEAST AT ABOUT 5 KNOTS. MAXIMUM 10-MINUTE AVERAGE WINDS NEAR THE CENTRE ESTIMATED AT ABOUT 45 KNOTS. DEEP CONVECTION CONTINUES TO PERSIST OVER THE LLCC WITH PRIMARY BANDS WRAPPING ONTO THE LLCC. OGANISATION IMPROVED. SYSTEM LIES UNDER AN UPPER DIVERGENT AREA IN A LOW SHEARED ENVIRONMENT. CYCLONIC CIRCULATION EXTENDS UP TO 500HPA. SST AROUND 30 DEGREES CELSIUS. GLOBAL MODELS HAVE PICKED UP THE SYSTEM AND MOVE IT SOUTHEASTWARDS INITIALLY AND SOUTHWARDS THEREAFTER WITH FURTHER INTENSIFICATION. DVORAK ANALYSIS BASED ON 0.7 WRAP ON LOG10 SPIRAL YIELDING DT=3.0. MET AND PT AGREE. FT BASED ON DT THUS, YIELDING T3.0/3.0/D0.5/24HRS. FORECASTS : AT 12 HRS VALID AT 211200 UTC 16.0S 169.9W MOV SE AT 09 KT WITH 50 KT CLOSE TO CENTRE AT 24 HRS VALID AT 220000 UTC 17.3S 169.3W MOV SSE AT 08 KT WITH 60 KT CLOSE TO CENTRE OUTLOOK : AT 36 HRS VALID AT 221200 UTC 18.4S 169.1W MOV SSE AT 07 KT WITH 65 KT CLOSE TO CENTRE AT 48 HRS VALID AT 230000 UTC 19.2S 169.0W MOV SSE AT 06 KT WITH 65 KT CLOSE TO CENTRE
They have also published a cyclone Track Map, as per below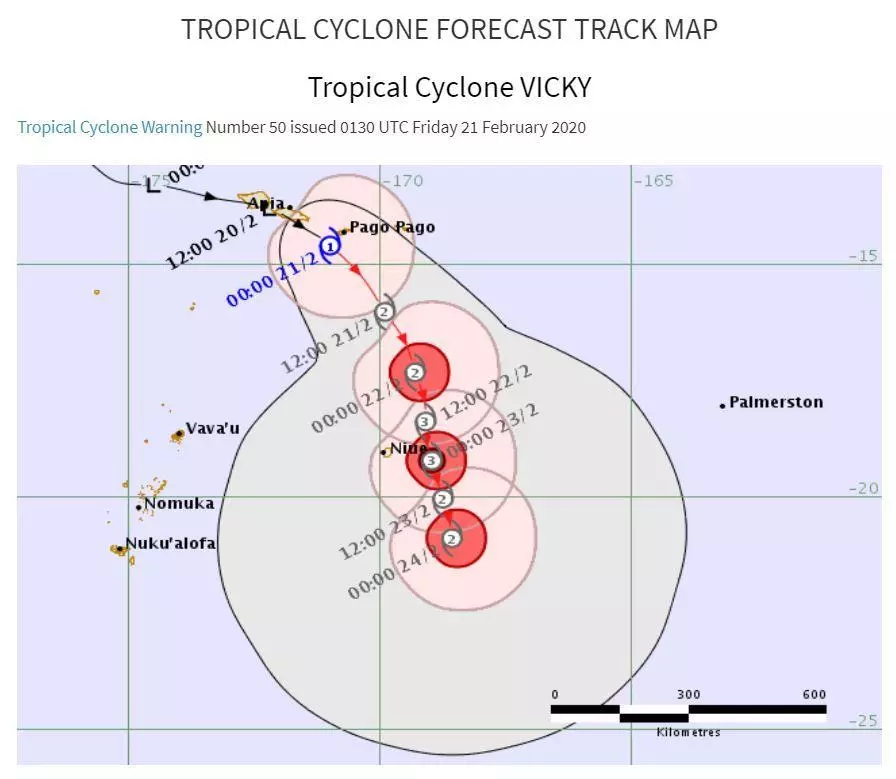 22nd February 2020 1900
TC Vicky has lost all the love in the previous 24 hours! It has passed very close to Niue, but was not as strong as originally expected. TC Vicky has now reduced in strength and is now no longer at Tropical Cyclone strength. As a tropical depression it's now in open water and is not expected to approach any significant land.
News Links
Twitter Feed
The Twitter feed for Vicky follows: