16 Dec 2020 2030hrs
TC Zazu was named on 14th Dec, the second (just) TC to be named in the SW Pacific this year after TC Yasa. Zazu formed as a Cat1 storm over the island of Vavau in Tonga. It has since strengthed to a Cat2 storm and continues to move SE away from the Kingdom.
It is expected to decrease in strength over the next 24 to 48 hours. Zazu has an estimated central low pressure of 982mb.
Fiji Meteorological Service has published the following:
STORM WARNING 056 ISSUED FROM RSMC NADI Dec 160721 UTC. TROPICAL CYCLONE ZAZU CENTRE 985HPA CATEGORY 2 WAS LOCATED NEAR 21.3 SOUTH 168.4 WEST AT 160600 UTC. POSITION POOR. REPEAT POSITION 21.3S 168.4W at 160600 UTC. CYCLONE MOVING EAST SOUTHEAST AT 21 KNOTS. EXPECT SUSTAINED WINDS OF 50 KNOTS CLOSE TO THE CENTRE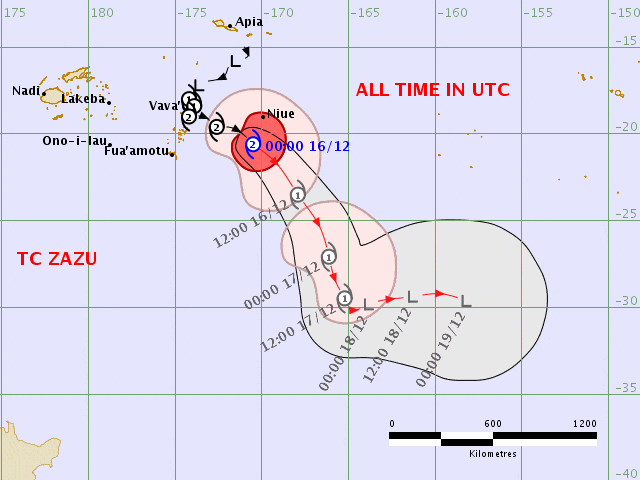 17th December 2020 2330 hrs
Ex-TC ZAZU was reclassified as an extratropical low this morning,and is no longer a tropical cyclone.