1st February 1900 hrs
Originally a Tropical Depression, formed over the Gulf of Carpentaria in late January, Lucas has tracked eastward to reach TC status around 1pm on Jan 31st. It's currently a Category 1 cyclone, having initially weakened from a Cat2.
Lucas is tracking along the southern edge of a ridge and through a favorable environment with very warm (29-30°C) sea surface temperatures, low (10-15 knots) vertical wind shear and moderate poleward outflow aloft.
The current favorable conditions will be tempered by diminishing upper level support and moderate shear, but Lucas is still expected to gradually intensify in the near term, resulting in 110 km/h (60 knots) in 24 hours.
Subsequent to that Lucas is expected to turn towards the South, where it will see increasing shear, and colder waters. As a result the TC is expected to weaken as it passes either over or around New Caledonia, sometime around February 3rd.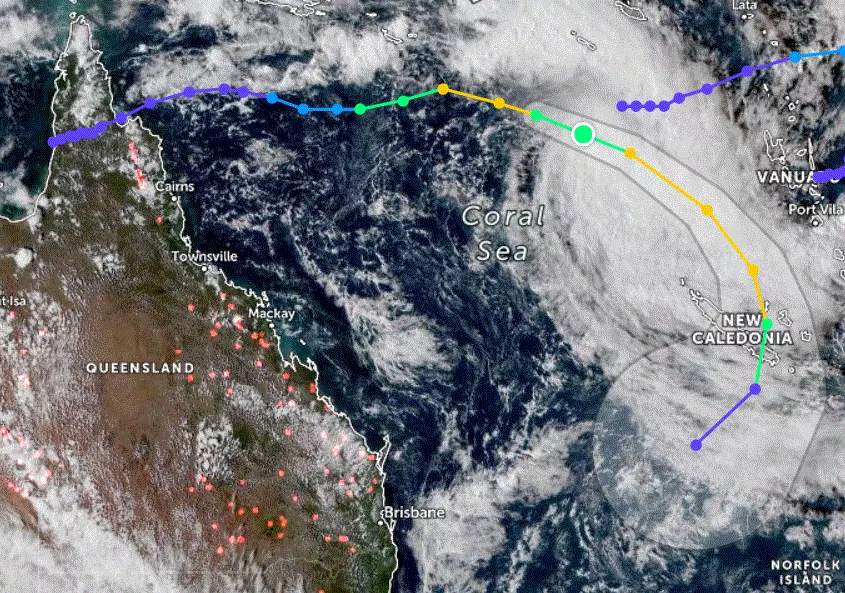 Image Credit: Zoom Earth and JTWC
It's a busy area of the Pacific at present with TC Ana (SSW Fiji) accompanied by TC Bina (Fiji) and TC Lucas (Coral Sea):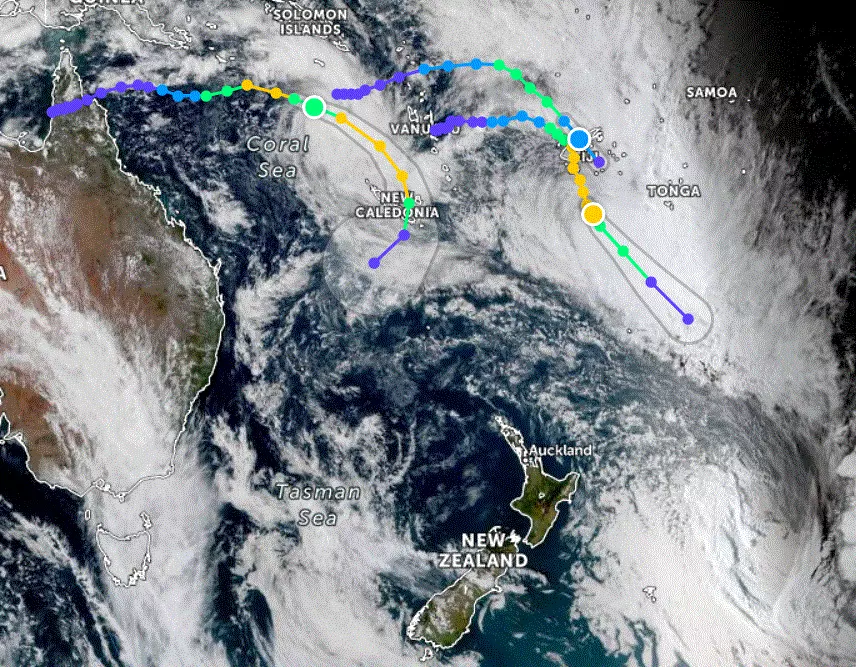 02 February 2200hrs
From the zoom.earth website
Tropical Cyclone Lucas 2021
Last Modified: 09:00 February 2, 2021 UTC

Cyclone Lucas 2021Lucas 2021
Lucas is located 244 km (132 nautical miles) west-southwest of Port Vila, Vanuatu, and has tracked southeastward at 31 km/h (17 knots) over the past 6 hours.

Satellite imagery shows deep, central convection that has begun to warm significantly over the past 6 hours. The initial position is placed with fair confidence based on the convective features in a timely SSMIS image that further reveals the deep convection associated with the system is sheared 74 km (40 nautical miles) to the south-southeast of the current position.

Lucas is tracking along the southwestern periphery of a near-equatorial ridge and through a marginal environment with warm (27-28°C) sea surface temperatures and robust poleward outflow aloft offset by high (30+ knots) vertical wind shear and convergent upper level flow along the northeastern periphery of the system.

In the near term, Lucas will maintain a 85 km/h (45 knots) intensity in 12 hours and then begin a gradual weakening trend due to continued high wind shear.

A building subtropical ridge positioned to the southeast will take over steering from the near-equatorial ridge after 24 hours and begin to drive the system on a generally southwestward track after 36 hours.

Continued high wind shear and cooling sea surface temperatures thereafter will lead to further weakening and ultimately lead to dissipation over water in 3 days.

Forecast models are in overall fair agreement with a maximum spread in model solutions of 250 nautical miles in 2 days that increases slightly thereafter for the remainder of the forecast period.

This relatively large spread in numerical model solutions lends overall fair confidence in the JTWC forecast track which is placed on the multi-model consensus.

Maximum significant wave height is 4.9 meters (16 feet).

Information provided by the Joint Typhoon Warning Center (JTWC).
03 February 2200hrs
After weaving it's way across the Coral Sea, TC Lucas has moved south and is currently sitting near New Caledonia, having just crossed the Pacific island.
From the Zoom Earth website

Lucas is located 106 km (57 nautical miles) east-northeast of Noumea, New Caledonia, and has tracked southward at 24 km/h (13 knots) over the past 6 hours.

Satellite imagery shows the central convection remains sheared southward partly exposing the low level circulation (LLC). The satellite imagery loop also shows vigorous cold air advection as evidenced by stratocumulus cloud lines wrapping into the LLC.

Cyclone phase analysis indicates Lucas is quickly becoming subtropical and will complete subtropical transition in 12 hours.
Supporting us and feedback
If you think this article was helpful, there are a number of ways you can thank us. Feel free to add a comment and say thanks in the comments section below, or provide feedback if we've got something wrong. Also you are welcome to register on the site. The more members we have the more it encourages us to write these types of articles. Alternatively if you are into all that social media stuff, feel free to share the article using the buttons below, and tell others about the site. Thanks!!