Follow our tracking of TC Cody / Cyclone Cody / TD 03F below. Updates are made daily, usually in the evening NZ time.
09th Jan 2022 10PM NZDT
From the Fiji Met Service:
SPECIAL WEATHER BULLETIN NUMBER 08 FOR FIJI ON TROPICAL DEPRESSION 03F ISSUED FROM RSMC NADI AT 08:20PM on SUNDAY THE 09TH OF JANUARY 2022
TROPICAL CYCLONE WARNING
TROPICAL DEPRESSION NUMBER: TD03F
STATUS: DEPRESSION
LOCATION OF CENTRE AND STRENGTH:
LOCATION: 18.8 SOUTH 176.3 EAST OR ABOUT 90 KILOMETRES SOUTHWEST OF NADI, 190 KILOMETRES SOUTH-SOUTHWEST OF VIWA, OR 200KM WEST OF KADAVU AT 6PM TODAY.
STRENGTH:
MAXIMUM WINDS: 55KM/HR WITH GUSTS TO 80 KM/HR EXPECTED TO INCREASE TO 75 KM/HR WITH MOMENTARY GUSTS TO 100 KM/HR TONIGHT.
CENTRAL PRESSURE: 998 HPA
MOVEMENT: EAST TOWARDS FIJI AT ABOUT 18KM/HR
TIME OF OBSERVATION AND ANALYSIS: 6PM TODAY (FST)
THE DEPRESSION IS EXPECTED TO MOVE TOWARDS EAST-SOUTHEAST AT ABOUT 10KM/HR AND THE CENTRE SHOULD PASS ABOUT 160 KILOMETRES
WEST SOUTHWEST OF KADAVU AT MIDNIGHT TONIGHT AND ABOUT 230KM WEST-SOUTHWEST OF NADI AT MIDDAY TOMORROW.
FORECAST POSITION:
12hr or 6AM TOMORROW: 19.7S 176.7E or ABOUT 170KM WEST SOUTHWEST OF KADAVU AND 220KM SOUTH SOUTHWEST OF NADI (CONFIDENCE: MODERATE TO HIGH)
24hr or 6PM TOMORROW: 20.1S 175.6E or ABOUT 290KM WEST-SOUTHWEST OF KADAVU AND 320KM SOUTHWEST OF NADI (CONFIDENCE: MODERATE TO HIGH)
36hr or 6AM TUESDAY: 19.7S 174.0E or ABOUT 420KM SOUTHWEST OF NADI AND 440KM WEST OF KADAVU (CONFIDENCE: MODERATE)
48hr or 6PM TUESDAY: 20.0S 173.6E or ABOUT 470KM WEST-SOUTHWEST OF VIWA AND 480KM WEST-SOUTHWEST OF NADI (CONFIDENCE: MODERATE)
Based on the intensity forecast, the system is expected to be elevated to category 1 later tonight.
CAUTION: Damaging winds and cyclone impacts could begin several hours prior to the cyclone centres passes over or nearby.
Thus, secure your homes and properties and know your evacuation centres.
Threat Map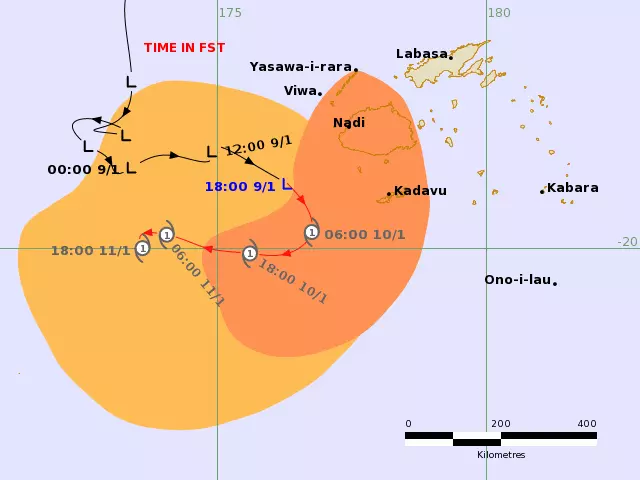 10th Jan 2022 10PM NZDT
TD 03F has officially reached TC status, and has been named TC Cody by the Fiji Meteorological Service. Currently at Cat1 , it is expected to stay in the waters between New Caledonia and Fiji over the next few days, before moving south and increasing to Cat 2 or 3. There's wide variation amongst the models towards the end of this week, so it's path at this point is uncertain.
Tropical Cyclone Cody, the 4th cyclone of the season, has formed southwest of Fiji ?

It is expected to remain at category 1 over the coming days as it slowly tracks southward. pic.twitter.com/H3iFO3vmj2

— Island Climate Update (@ICU_NIWA) January 9, 2022
From met.govt.fj
TROPICAL DISTURBANCE ADVISORY NUMBER A10 ISSUED FROM RSMC NADI Jan 100756 UTC.
TROPICAL DEPRESSION 03F CENTRE 992HPA WAS LOCATED NEAR 20.2S 175.6E AT 100600 UTC. POSITION FAIR BASED ON HR HIMAWARI EIR AND VIS IMAGERY AND PERIPHERAL SURFACE REPORTS.
CYCLONE MOVING WEST AT ABOUT 09 KNOTS. MAXIMUM 10-MINUTE AVERAGE WINDS NEAR THE CENTRE ESTIMATED AT ABOUT 40 KNOTS. EXPECT WINDS ABOVE
33 KNOTS WITHIN 120 NAUTICAL MILES IN NE QUADRANT AND
WITHIN 120 NAUTICAL MILES IN SE QUADRANT AND
WITHIN 90 NAUTICAL MILES IN SW QUADRANT AND
WITHIN 40 NAUTICAL MILES IN NW QUADRANT.
CONVECTION HAS BEEN SHEARED TO THE SOUTHEAST OF EXPOSED LLCC IN THE LAST 3 HOURS. CODY IS IN A MODERATE TO HIGH SHEARED ENVIRONMENT WITH MODERATE UPPER DIVERGENCE.
CODY IS CURRENTLY STEERED TOWARDS THE WEST ALONG THE PERIPHERY OF A SUB-TROPICAL RIDGE LOCATED TO THE SOUTH OF THE SYSTEM. DVORAK ANALYSIS BASED ON A SHEAR PATTERN WITH CENTRE LOCATED ABOUT 10NMI FROM DEEP CONVECTION WHICH YIELDS A DT OF 3.0. MET AND PAT AGREE. THUS, FT BASED ON DT YIELDING T3.0/3.0/D0.5/24HRS. FORECASTS :
AT 12 HRS VALID AT 101800 UTC 20.4S 174.6E MOV WSW AT 05 KT WITH 40 KT CLOSE TO CENTRE
AT 24 HRS VALID AT 110600 UTC 20.9S 174.1E MOV WSW AT 04 KT WITH 45 KT CLOSE TO CENTRE
OUTLOOK : AT 36 HRS VALID AT 111800 UTC 21.8S 174.1E MOV SW AT 04 KT WITH 50 KT CLOSE TO CENTRE
AT 48 HRS VALID AT 120600 UTC 23.1S 174.8E MOV SSW AT 04 KT WITH 50 KT CLOSE TO CENTRE
THE NEXT TROPICAL DISTURBANCE ADVISORY ON TROPICAL DEPRESSION 03F WILL BE ISSUED AROUND 101400 UTC.
11th Jan 2022 8PM NZDT
The Tropical Cyclone warning for the Fiji region has now been cancelled 2pm Fiji Time, however strong wind and heavy rain is still expected: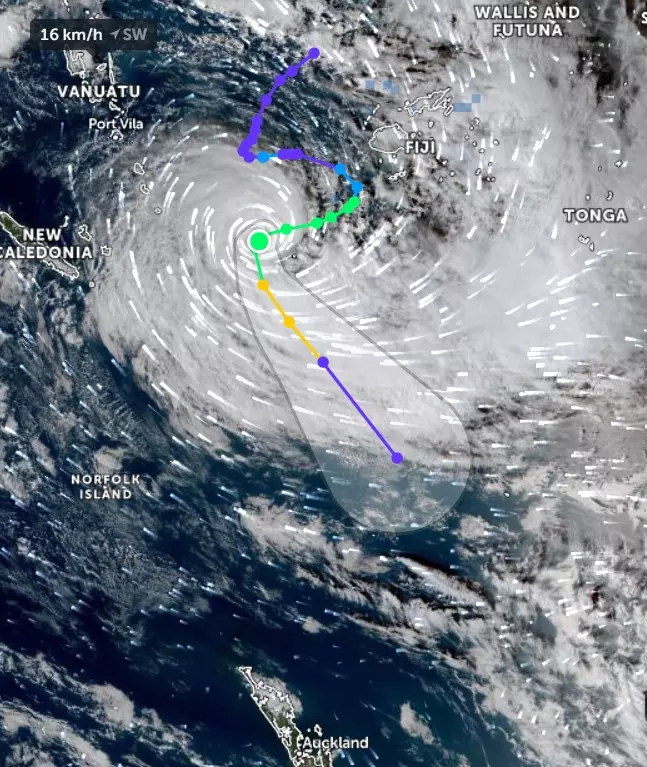 TROPICAL CYCLONE NAME: CODY (CO-DEE)
STATUS: CYCLONE, CATEGORY 1
LOCATION OF CENTRE AND STRENGTH: LOCATION: 20.5 SOUTH 175.5 EAST OR ABOUT 320 KILOMETRES WEST SOUTHWEST OF KADAVU AND ABOUT 360 KILOMETRES SOUTHWEST OF NADI AT 9PM TODAY.
STRENGTH: MAXIMUM WINDS: 75 KM/HR WITH MOMENTARY GUSTS UP TO 100 KM/HR.
CENTRAL PRESSURE: 992 HPA
MOVEMENT: WEST-SOUTHWEST AT ABOUT 16KM/HR AWAY FROM FIJI TIME OF OBSERVATION AND ANALYSIS: 6PM TODAY (FST) THE CYCLONE IS EXPECTED TO GRADUALLY MOVE WEST AND THE CENTRE IS EXPECTED TO BE ABOUT 430 KILOMETRES WEST-SOUTHWEST OF KADAVU AND 450 KILOMETERS SOUTHWEST OF NADI AT 9AM TOMORROW FURTHER AWAY FROM THE FIJI GROUP.
The Metservice in New Zealand also issued a number of tweets warning of possible impacts to New Zealands East Cape, towards the end of the week, as well as a
Tropical Cyclone Bulletin
:
Outlook to 1am Sun, 16 Jan (NZT)

TC CODY is expected to track south to southeast during this period and it may intensify to Cat 2 or 3 system for a time. TC CODY is expected to move into TCWC WELLINGTON area of responsibility during Thursday and is expected to track towards eastern North Island late Sunday or Monday.
A large ridge of high pressure spreads northeast across the country during Thursday and persists through to Saturday, bringing mostly settled weather. A subtropical low (currently TC Cody) is expected to approach the waters to the northeast of New Zealand during Saturday. The low is likely to move southwards to affect the east of the North Island late Sunday and early next week, bringing heavy rain, strong winds and large waves about the east coast of the North Island, and the impact could be significant. There is low confidence of warning amounts of rain and severe southeasterly gales about Gisborne on Sunday at this stage.
There are still uncertainties regarding the track and the depth of the subtropical low, people are advised to keep up to date with the latest forecasts.
13th Jan 2022 09:30pm
Metservice have updated their Severe Weather Outlook:
Current status of cyclone activity
Tropical cyclone Cody (990hPa, category 1) was located over open waters about 830km SSW of Nadi this morning, moving south-southeast.
Forecast to 1am Sat, 15 Jan (NZT)
Tropical cyclone Cody is expected to move south-southeast over the next couple of days, over open waters to the north of New Zealand. Cooler seas and strong winds aloft mean the system will lose its tropical cyclone characteristics, but it will still remain a deep low as it moves south.
Outlook to 1am Tue, 18 Jan (NZT)
Cyclone Cody is expected to approach New Zealand this weekend and should move across the North Island on Monday, although there still remains some uncertainty regarding the path of the system across the country and how quickly it will move past.
Track map
From Metservice: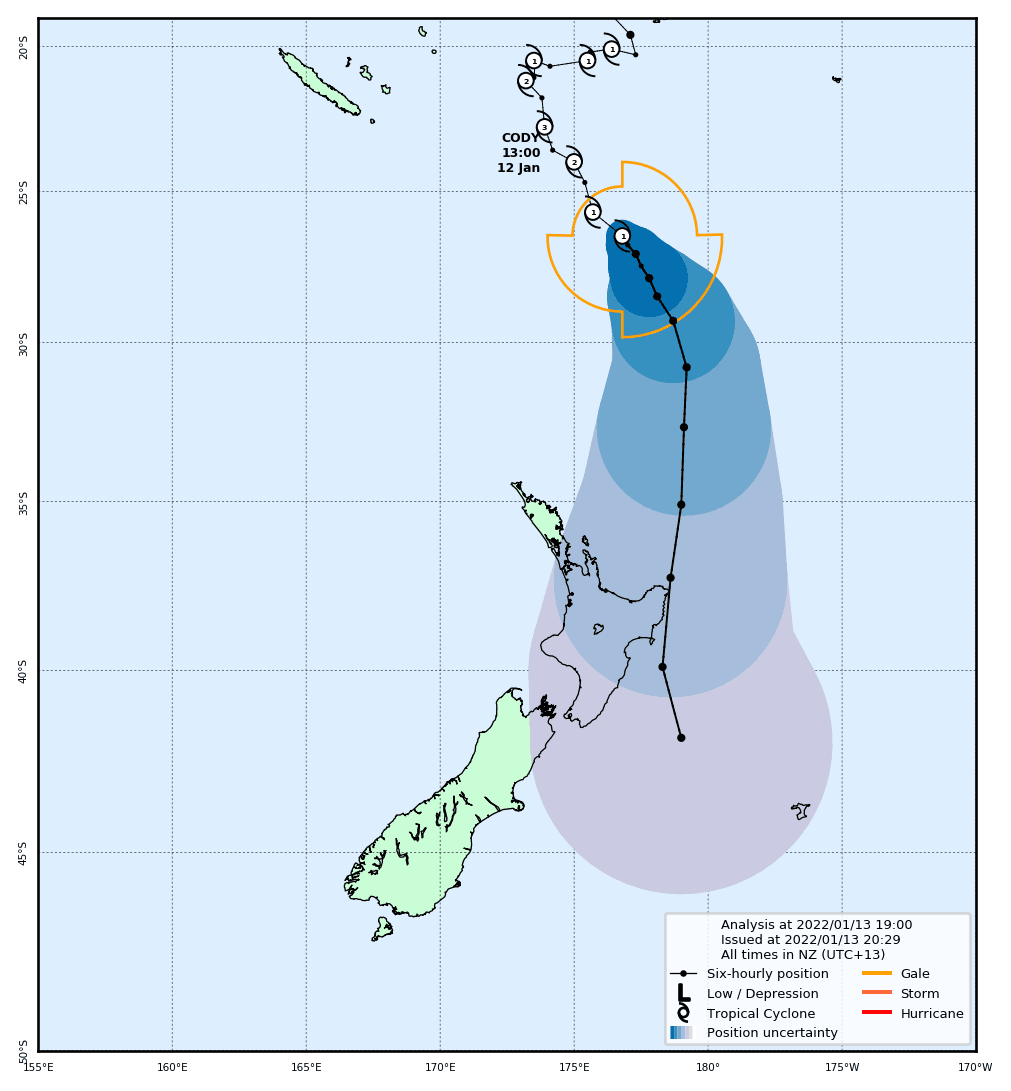 Metservice have noted that watches and warnings will be issued starting tomorrow. These appear on the weather.net.nz website, however as always you should not rely on these and refer to the Metservice website directly for the most up to date notifications. This is likely to be a damaging weather event for parts of New Zealand with strong gales and storm force winds with heavy rain in places and potential for coastal inundation.
Model Commentary
There are a couple of weather models we keep an eye on. The ECMWF model is usually more accurate and it suggests the cyclone moves down the east coast to about East Cape, before being pushed away by an approaching high pressure. The GFS model suggests that the cyclone takes a slightly slower path, along the same route, but reaches further south before being pushed away. For example the GFS model suggests heavy wnd and rain for Wellington, early Tuesday, while the ECMWF model suggest much lighter winds for Wellington with alot less rainfall.
The MetVUW models produced out of Victoria University of Wellington, suggest a similar path to the GFS models, which would be more impactful to a larger area of the North Island
Areas around East Cape, and Eastern areas of the North Island should prepare for a rough period of weather from late Sunday through to Tuesday with winds approaching 60kph, along with heavy rainfall.
Models will firm up alot over the next 24 to 48 hours and we'll provide more details on what they are telling us over that period. You can check these out directly via windy.com
14 Jan 2022 11:30pm
Not too much more to report today. Cody has lost it's Tropical Cyclone status as it slowly moves south - it's now called an ex tropical cyclone or just Cyclone Cody! This isn't unusual for Tropical Cyclones. They need warm water and ability to maintain rotation around a common centre. As they move south, they often encounter colder waters, reducing the energy available, and winds that shear the top off (or push the top sideways relative to the centre), making it difficult to maintain a strong rotating centre.
The first watches have been issued by the MetService for the areas of and immediately around East Cape. These suggest strong winds and rain, with a medium confidence. The predicted path continues to more closely follow the ECMWF model which pushes the centre of the storm out towards the east of New Zealand, just off the East Coast of the North Island.
The system is still a couple of days away so there is still some possibililty of variability in terms of impacts.
Media
Twitter